Amber McClain Shaw
Amber grew up the oldest of three girls raised in rural Morgan Hill, California. Although she lived in a small town she traveled often with her family due to her father's career as an airline pilot. When she went to France for a month as a teen, she made the local paper's front page. Amber attended Santa Clara University, earning a degree in English Literature. She continued to travel during college, going where her travel benefits allowed until the last possible moment. She went on weekend adventures to Hawaii or day trips to Chicago and slightly longer trips to Australia. She spent her Junior year at Durham University in England studying Shakespeare and Formal Logic. After university, she worked as a graphic designer, for high tech companies, and as a freelancer. She married and she and her husband lived in Silicon Valley, working long hours and traveling, before having three boys in three and a half years.

Each of her sons attended a nature play-based outdoor co-op preschool, locally nicknamed the Mountain School, where she learned to observe and honor each son's development and temperament. When her two older sons were in 1st grade and kindergarten, she realized that her local public school was not a good fit. She searched for a different learning environment where her sons could run around outside every day, and kick balls without being punished with recess spent on a bench.

It became obvious that Amber's family situation with three very active boys was very different from the one she grew up in. The oldest of three girls, with a strong aversion to locker rooms stemming from a middle school fitness class, she was unprepared. She adopted the motto "I should have paid more attention in PE."

As the boys grew and progressed in their education, Amber started writing down her experiences during the physically challenging years of raising three young boys. Writing became her creative outlet, along with cooking. When all three boys were on sports teams in high school at the same time, her cooking went into high gear to adjust to the quantity and nutrition they needed. It also provided a reason to gather for dinner together as a family.

Adjusting to the empty nest after the youngest left for college was difficult. Just when Amber was starting to embrace the empty nest, the pandemic shut everything down and two of her sons abruptly flew home, expelled from their dorms. The oldest remained in his job across the country as a research assistant in infectious disease, unable to travel. The pandemic presented both big challenges and big opportunities for her family. As everyone got their footing and moved forward, each person in the family gained new perspectives and appreciation for being able to do hard things.

Sharing this book with her adult sons has been a great joy. Amber hopes that by sharing these stories with her readers they will be entertained, and perhaps find a bit of wisdom; keep that sense of humor alive, be intentional, and have some fun. It can get you, and those you love, through a great many difficult things.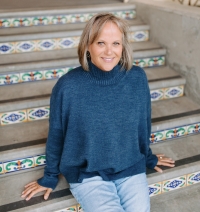 A Very Occasional Newsletter
Sign up for news and fun updates!
Recent Posts