Choose Your Own Adventure: Night Market
Once in a while, colorful and crazy food photos have shown up in my social media feed from Night Markets. They are intriguing.
Recently, when some photos popped back up, my curiosity was piqued and I decided to check out the 626 Night Market when it came to my area.
What is a Night Market? It's a huge food festival with a dizzying array of vendors, trucks, and concessions. Night Markets are not new; they've been around in China for generations. But they might be new to you!
The one I went to was called 626 Night Market, which claims to be the original and largest of its kind. According to their website, 626 Night Market is inspired by Asia's famous open-air nighttime bazaars, where people come together to eat, drink, socialize, and be entertained. Established in 2012, the large-scale market is named after the 626 area code region of San Gabriel Valley, northeast of Los Angeles. The 626 Night Market happened to travel to my area, so I didn't have to go far to see what it's all about.
A Night Market can be overwhelming if you've never been to one before. There is so much to check out!
Here are Ten Tips for Enjoying Your First Night Market!
1. Go on the early side if it's your first time.
Check the hours online. It's easier to get a lay of the land if you arrive in the afternoon instead of at night. If you go earlier, there are shorter lines, and it's less crowded. I left at sunset, before it got dark, but I could sense the energy shifting to a more vibrant party atmosphere with lots of teens and young adults streaming in. Maybe next time I'll stay for that. Walk through the whole place and survey it before jumping in a food line.
2. Go with AT LEAST one other adventurous person, preferably several of them.
The bigger your group, the more you can sample. I went with my husband, but we both agreed next time we went to a Night Market we would like to have more people . . . as long they are adventurous eaters and willing to share.
3. Buy your ticket on your phone ahead of time.
Who wants to stand in line for a ticket?
4. Be ready for some fantastic people-watching.
You pretty much cannot be over (or under) dressed.
5. Go hungry, but have a goal or a plan. And stick to it.
My goal was to try as many things as I could without overeating and feeling sick. That meant I looked for smaller portions and less fried food. Next time I go, my goal might be to try the grilled lobster I saw someone carrying, split in half lengthwise, glistening bright red and hanging over the sides of a plate where it rested on top of a mess of garlic noodles. Another goal could be trying something you've never had before. Octopus balls, anyone?
6. Pick a strategy for choosing what to eat.
There are hundreds of choices, and it's overwhelming. Here are a few ways to decide what to eat.
​​
Social media. Some vendors have a robust social media presence on Instagram and it can be a good way to see what's available, and what's popular.

Food hawked by dressed-up people dancing around to loud music. It's goofy and funny but I'm not sure what it says about their food.

Long lines. A line at a vendor has to mean something, right? Besides, queuing up at a Night Market is part of the fun. Talk to people, eavesdrop, or just people-watch.

Great booth or tent design. Some booths just draw you in. If a vendor spent the effort to create a great-looking booth or truck, they are probably making an effort with their food also.
Smoky delicious smells from the grills.
Let your sense of smell guide you.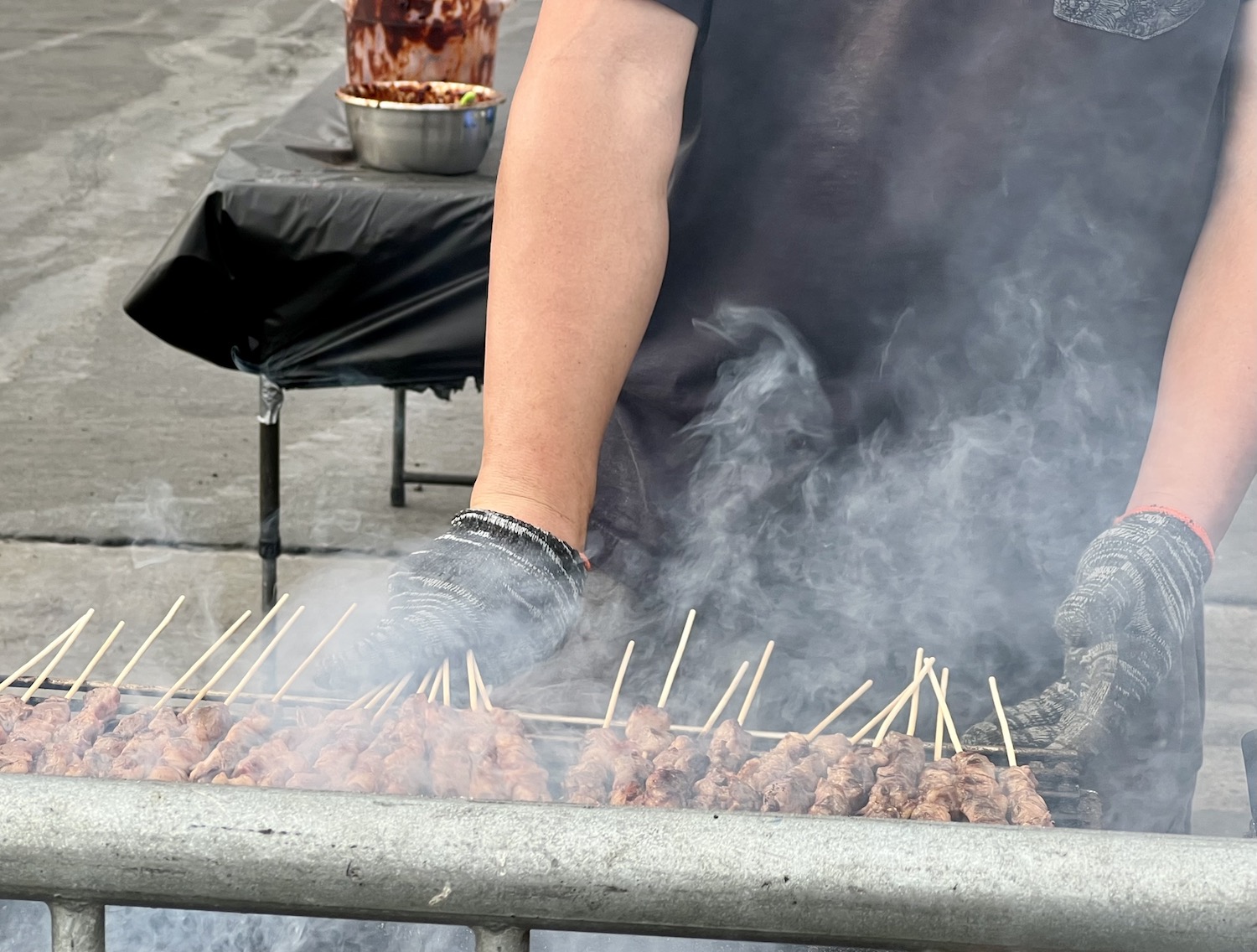 Look at what people are eating or carrying around, and ask them about it. If it looks good and they rave over their choice, consider trying it.
7. Leave room for dessert.
The desserts are numerous, colorful, creative, photogenic and not to be missed. It will be difficult, but SAVE. SOME. ROOM.
8. Avoid the giant sugary, artificially flavored colored drinks served in huge baby bottles
or other novelty containers like lightbulbs. Just drink water, or maybe a beer. You are there to eat, not fill up on a drink. Besides, you look goofy carrying a giant baby bottle around. And then what do you do with it? Trust me. You will not use it for your cold brew coffee at home. Also, you don't want to drink so much liquid that you must frequent the porta-potties.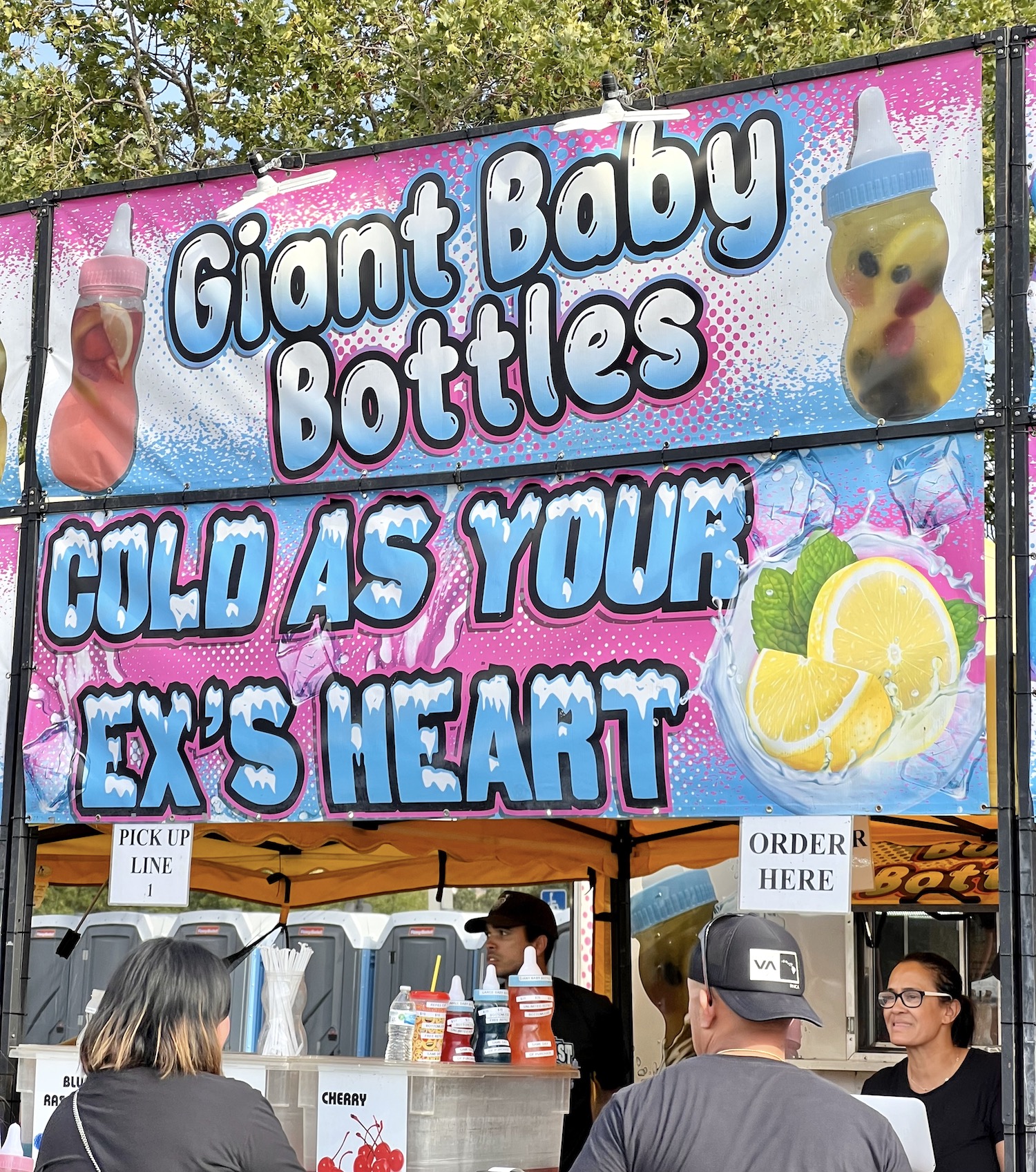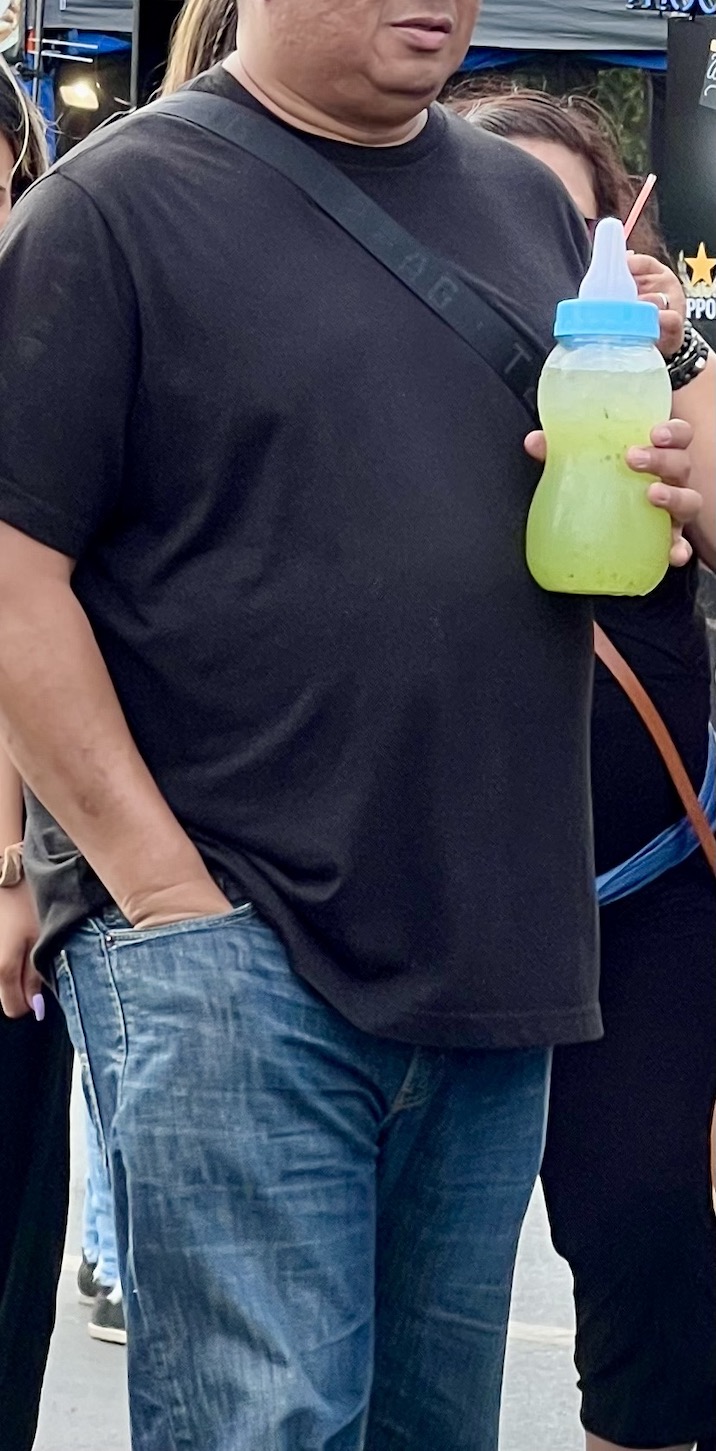 9. Don't worry about bringing cash.
Vendors take tap payments or credit cards. Sometimes the wifi is slow for tap, so as a backup, have a card to swipe.

10. Be prepared to walk and stand, a lot. There is not much seating and very little shade. You may also have to stand in a less desirable line; the restrooms are porta-potties.

There is a puzzling number of stuffed animals, magnets, and other items for sale when you walk in. Skip all that and head straight to the food. Enjoy yourself and the adventure of trying something new!